Vittel (ヴィッテル, Vitteru) was a part of the Assassin's Guild Sham Lash from the Parthevia Empire before his defection to join Sinbad as one of the founders of Sindria Trading Company and eventually the nation of Sindria.
Appearance
Personality
History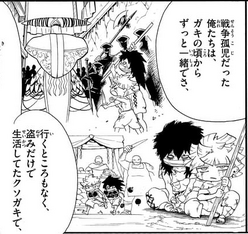 Vittel grew up with Mahad in Partevia as war orphans. Eventually, both had to steal for their survival, which led to them being picked up by the organization.
Plot
Abilities
Vittel has the ability to stretch his arms to outrageous lengths.
Battles/Events
Relationships
Trivia
His name may refer to "Vittel", a commune in the Vosges department in Lorraine in northeastern France and also the name of "Vittel brand", a French brand of bottled water. [2]
References
Ad blocker interference detected!
Wikia is a free-to-use site that makes money from advertising. We have a modified experience for viewers using ad blockers

Wikia is not accessible if you've made further modifications. Remove the custom ad blocker rule(s) and the page will load as expected.