Toya
Talk

0
644pages on
Magi Wiki

Toya (トーヤ, Tōya) is a member of the Kouga Clan, and granddaughter of Baba. Toya helps Aladdin after Dorji saves him.
Appearance
Edit
As a member of the Kouga clan, she has several traits that the whole clan shares. She has light brown hair and a cute face. She is relatively short, compared to many of the men in the clan, and even some of the women. She has a braided bang going down the side of her face, and she is usually smiling.
Personality
Edit
She is a girl who cares deeply for the people close to her. She is a very happy girl, always smiling, even when there is no reason for her too. Her clan is very important to her, and she is willing to listen to people and offer help to them even if she is not familiar with them. When she met Aladdin, she treated him in this way. She can be very understanding, and convincing as well. She has shown to be able to convince her clan members to be kinder, and they all care deeply for her for this reason.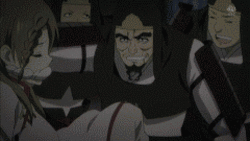 Toya and the other women of the Kouga Clan were kidnapped by the Kou Empire, by one of the underlings of Hakuei Ren, Hakuei did not actually know about it. She was then saved by the men of her clan, who saw this as a sign of war. Baba then convinced them that war wouldn't solve anything.
Abilities
Edit
Relationships
Edit
Baba was Toya's grandmother, so they were very close. When Baba died, she was amongst the others that were crying and mourning aloud during her passing. However, Toya seemed to note how happy Baba looked when put to her final rest.
She and Dorji seem to have a blooming romantic relationship, which Baba or the others, would not hesitate to tease them, which causes the two to blush. When they are alone, Dorji seems to blush even more around Toya. When she saw him carrying a sword and he stated that it was "just in case", she sadly looks across the fields and says she wishes there could be a day they would no longer have to fight. When Toya was hit by Ryousei, Dorji became enraged and attacked him.