Rashid Saluja
Talk

0
646pages on
Magi Wiki

Rashid Saluja (ラシッド・サルージャ, Rashiddo.Sarūja) is the father of the Saluja Brothers. He wanted his son, Alibaba Saluja to become King. He was the 22nd King of Balbadd until the Fog Troupe attacked, which led to his fast death.
Appearance
Edit
He was a tall man with a large build. He had long blonde hair, a long goate, and wrinkles on his face. He wore a royal robe.
Personality
Edit
He was a wise man. He had also loved Anise, but could not be with her.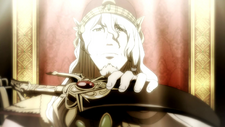 The king had met Anise, while she worked as a maid in the Balbadd Palace. They became lovers and she had Alibaba Saluja.
The king had met Sinbad and gave him a sword from the King's family.
Years later, after Anise had died, He went to the slums and told Alibaba that he was his father. He then took Alibaba to the palace. Sometime later, he accompanied Alibaba to the market where Alibaba made his first trade. After which, he rewarded Alibaba with a knife, which would later become his first vessel. Years later, he had become weaker and told Alibaba that he wanted him to become the next king. He died when Kassim and his men had invaded the palace.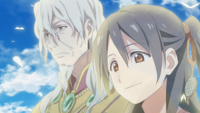 His rukh was brought back by Aladdin using Solomon's Wisdom.
When Sinbad gave Alibaba a new sword for his Metal Vessel, Sinbad had revealed that Alibaba's father had given him that sword and some advice about ruling a country.
Abilities
Edit
Royal Swordplay
As a member of Balbadd's Royal Family, he must have known Royal Swordplay since he gave Balbadd's Royal sword to Sinbad.
Relationships
Edit
Alibaba is his third son and the one he wanted to be the next king.
Anise was a maid that had worked in the palace until they met and she became his lover. Before he died, he said to Alibaba that he really loved Anise.
Ahbmad is his oldest son and the one who became King after he died.
Sahmad is his second son.
This character was not named in the manga or anime, his name appears only on the anime site.
In the original Arabian Nights appears a character called Rashid, the Caliph Harun al-Rashid, who is not only a fictional character but a real Caliph.