Recent Magi Chapter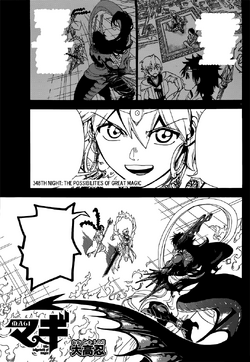 Night 348: The Possibilities of Great Magic
---
Spoiler Alert! Read at your own risk!

---
Before Alibaba reveals his grand plan, Sinbad teleports Aladdin from his fight with Zepar so he can listen to his plan as well as well. He explains Sinbad's idea is about a vertical relationship, in which he wants to break the ceiling of the world, while Aladdin's is about a horizontal one, as he wants to get rid of the differences between the colors of the Rukh. His idea is to remove both limits, and connect everything. Listening to his plan from the Sacred Palace, Ugo holds his head, saying that he will never allow that to happen.
Recent Adventure of Sinbad Chapter
Night 134: The Invisible Darkness
---
Spoiler Alert! Read at your own risk!

---
As Barbarossa walks away, Sinbad feels the urge to strike him down, but Ja'far stops him in the last moment. Later in the night, he decides to fly to the island himself, to take a look. As he gets there, he finds an abandoned military facility, and begins to explore it. He finds tanks with grotesque shapes resembling humans inside, and is suddenly faced by a monster, who turns out to know his name...
Recent Blogs
Featured Quote
Featured Picture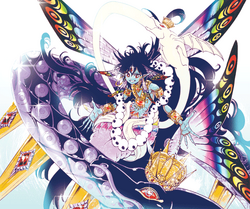 Featured Article
Sacred Palace
Featured Media
Wiki Poll
Past Poll Results
What are your thoughts on the manga being halfway through the final arc?
Magi Websites
Wiki Affiliates

Ad blocker interference detected!
Wikia is a free-to-use site that makes money from advertising. We have a modified experience for viewers using ad blockers

Wikia is not accessible if you've made further modifications. Remove the custom ad blocker rule(s) and the page will load as expected.