Ad blocker interference detected!
Wikia is a free-to-use site that makes money from advertising. We have a modified experience for viewers using ad blockers

Wikia is not accessible if you've made further modifications. Remove the custom ad blocker rule(s) and the page will load as expected.
Recent Magi Chapter
Night 330: Together, to the Rukh
---
Spoiler Alert! Read at your own risk!

---
In order to show Aladdin and Alibaba that he's not the only person who believes the world should be returned to the Rukh, Sinbad calls in the former Eight Generals of Sindria Kingdom. Sharrkan points out that they all agree with him, while Yamraiha explains everyone will be reborn in a new, better world. Sinbad then tells them their discussion is broadcast around the world. Aladdin and Alibaba watch in horror as every single person cheers for Sinbad and his plan. Meanwhile, Morgiana is watching the broadcast in silence...
Recent Adventure of Sinbad Chapter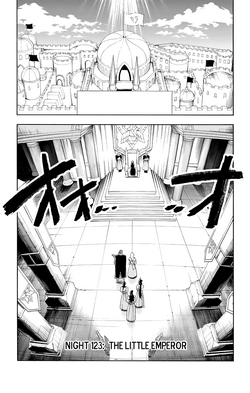 Night 123: The Little Emperor
---
Spoiler Alert! Read at your own risk!

---
Barbarossa brings Sinbad and Rashid Saluja to the Parthevian palace, where they meet the current king of Parthevia, Ceylan Dikumenowlz Du Parthevia. However, due to the young king's illness, the discussion ends prematurely, and the boy is led away by Falan. Sinbad notices that, and tells Barbarossa that he still doesn't trust him. Barbarossa decides to cancel all of his plans, to spend time with Sinbad, saying he has nothing to hide.
Recent Blogs
Featured Quote
Featured Picture
Featured Article
Sacred Palace
Featured Media
Wiki Poll
Past Poll Results
What are your thoughts on the manga being halfway through the final arc?
Magi Websites
Wiki Affiliates