Recent Magi Chapter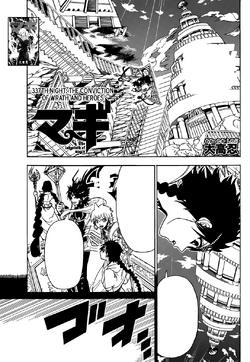 Night 337: The Conviction of Wrath and Heroes
---
Spoiler Alert! Read at your own risk!

---
Hakuryuu urges the others to move to the next dungeon, while Judar fights Sinbad in Baal's dungeon. Sinbad repeats the question, as the two fight. Judar calls him crazy, but Sinbad replies he's the same, showing him the vision he'd seen through Solomon's Wisdom in Balbadd. Then, Gyokuen Ren appears before him, but Judar stabs her to death. Sinbad laughs at him and says he's the same as himself, but Judar replies that there's nothing wrong with that and that he will destroy anything in his path that he doesn't like. He freezes Sinbad and cuts his head off, while telling him that he's already satisfied with his life, and that he too, should live his life to the fullest.
Recent Adventure of Sinbad Chapter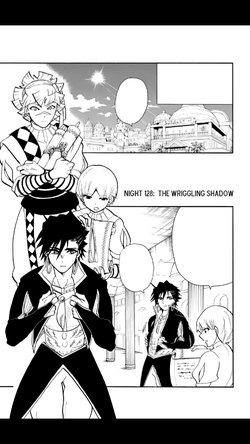 Night 128: The Wriggling Shadow
---
Spoiler Alert! Read at your own risk!

---
Sinbad returns to the Reim Empire and gathers his comrades to tell them about what happened in Parthevia. Serendine says she can't accept the country being turned into a constitutional monarchy, based on her father's assassination, and her brother's suffering. Sinbad says that he doesn't completely disagree with it, and proposes that Sindria Trading Company makes a deal with the nationalist party. The others agree; meanwhile, Al-Thamen is having a secret meeting..
Recent Blogs
Featured Quote
Featured Picture
Featured Article
Sacred Palace
Featured Media
Wiki Poll
Past Poll Results
What are your thoughts on the manga being halfway through the final arc?
Magi Websites
Wiki Affiliates

Ad blocker interference detected!
Wikia is a free-to-use site that makes money from advertising. We have a modified experience for viewers using ad blockers

Wikia is not accessible if you've made further modifications. Remove the custom ad blocker rule(s) and the page will load as expected.