Recent Magi Chapter
Night 349: The People Involved
---
Spoiler Alert! Read at your own risk!

---
The group comes to a disagreement on what they should do about the future of the world. Alibaba and Ugo think they should break the vertical walls of the world, while Aladdin and Arba believe they should instead be reinforced. Sinbad listens to the quarrel and proposes they should instead communicate with the other worlds and attempt to form an alliance with them.
Recent Adventure of Sinbad Chapter
Night 134: The Invisible Darkness
---
Spoiler Alert! Read at your own risk!

---
As Barbarossa walks away, Sinbad feels the urge to strike him down, but Ja'far stops him in the last moment. Later in the night, he decides to fly to the island himself, to take a look. As he gets there, he finds an abandoned military facility, and begins to explore it. He finds tanks with grotesque shapes resembling humans inside, and is suddenly faced by a monster, who turns out to know his name...
Recent Blogs
Featured Quote
Featured Picture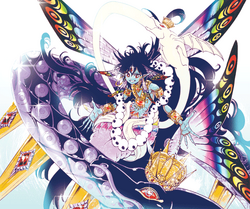 Featured Article
Sacred Palace
Featured Media
Wiki Poll
Past Poll Results
What are your thoughts on the manga being halfway through the final arc?
Magi Websites
Wiki Affiliates

Ad blocker interference detected!
Wikia is a free-to-use site that makes money from advertising. We have a modified experience for viewers using ad blockers

Wikia is not accessible if you've made further modifications. Remove the custom ad blocker rule(s) and the page will load as expected.