Recent Magi Chapter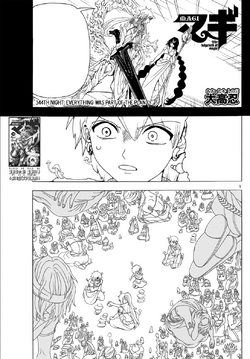 Night 344: Everything Was Part of the Plan
---
Spoiler Alert! Read at your own risk!

---
Alibaba tells Arba about what happened when he was dead. He mentions turning up in a strange world, where he met people from Alma Torran, including Wahid, Setta and Tess. They tell him they all lost their wills to escape, but that there was one person who was once with them, but managed to return back to the world of the living: David. They tell Alibaba about his plan to destroy the world, and Alibaba resolves to stop him.
Recent Adventure of Sinbad Chapter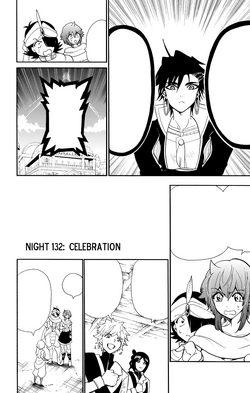 Night 132: Celebration
---
Spoiler Alert! Read at your own risk!

---
Sinbad is informed of Barbarossa's party winning the election. He's invited to Parthevia as a state guest. He accepts the invitation and leaves for Parthevia, despite Serendine not being happy about it. At the celebration, Barbarossa speaks to the guests, promising them that the country will be reborn. After the speech, he speaks to Sinbad, and offers him an island that could become his central base..
Recent Blogs
Featured Quote
Featured Picture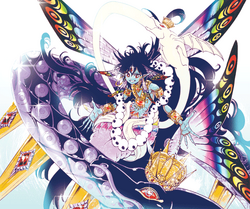 Featured Article
Sacred Palace
Featured Media
Wiki Poll
Past Poll Results
What are your thoughts on the manga being halfway through the final arc?
Magi Websites
Wiki Affiliates

Ad blocker interference detected!
Wikia is a free-to-use site that makes money from advertising. We have a modified experience for viewers using ad blockers

Wikia is not accessible if you've made further modifications. Remove the custom ad blocker rule(s) and the page will load as expected.