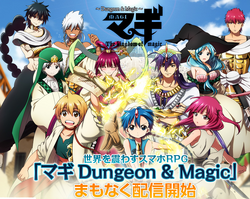 Magi: Dungeon and Magic is a game adaptation of the Magi manga and anime series, made by Nexon. Its platform are smartphones (Android) and iOS, and it is available in Japanese app stores.
The game's service ended on 25th of August 2015.
Playable Characters
Gameplay
The gameplay mechanic involves cards. The cards have a ranking system consisting of SR, SRR, and HR and then attributes/or elements represented by colors (from green, red, and blue) and a symbol (a lamp, an arm, and a badge) on the upper right hand corner.
Gallery
Preview
Ad blocker interference detected!
Wikia is a free-to-use site that makes money from advertising. We have a modified experience for viewers using ad blockers

Wikia is not accessible if you've made further modifications. Remove the custom ad blocker rule(s) and the page will load as expected.