Hakuyuu Ren
Talk

0
767pages on
Magi Wiki

Hakuyuu Ren (練白雄, Ren Hakuyū) was the former Kou Empire's first Prince.
Appearance
He is a tall man with dark blue hair and blue eyes. He has a mole in the same place as his siblings and their mother, Gyokuen Ren. He wears traditional clothes. He has the same face as his father.[1]
Personality
Hakuyuu had a very severe and serious personality.[1]
History
He was in a large fire during a revolt. To save the life of his younger brother, Hakuryuu Ren, he splashed his own blood all over Hakuryuu's body after telling to him that the culprit of the fire was their mother, Gyokuen Ren. After this, he, his brother, Hakuren Ren and their father, Hakutoku Ren, died.
Plot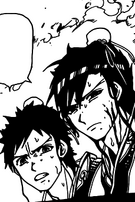 He is seen in Hakuryuu's memories. He is with his brothers, Hakuren and Hakuryuu, fighting against Al-Thamen in the palace on fire. Hakuyuu says that he still cannot die, that he cannot let them have their way. Hakuryuu asks him if mother and Hakuei are alright, but Hakuyuu and Hakuren don't answer.[2] After Hakuren dies, Hakuyuu is also in his latest, and says to Hakuryuu:This is a shame... This is the end for me and Hakuren but you, Hakuryuu, you will live and accomplish our mission. Swear to fight till the end!! You have to strike down our country's worst enemy!!. Hakuryuu is confused, and asks who would want them killed. Hakuyuu tells him that the one who wants to kill them is Gyokuen, and then he spreads his own blood over Hakuryuu to save his life and dies.[3]
Abilities
Relationships
Trivia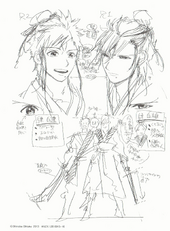 His name means White Hero in Japanese.
He was killed when his enthronement was imminent.[1]
References