Goltas
Talk

0
645pages on
Magi Wiki

Goltas (ゴルタス, Gorutasu) was a slave of Jamil, alongside Morgiana.
Appearance
Edit
Goltas is a large muscular man with scars all over his body. He is bald and wears a mask with only his left eye showing. He wears a dirty sleeveless shirt, dirty pants, a belt, and shackles around his ankles. He also carries a large sword.
Personality
Edit
Goltas was a slave of Jamil who was shown to be very quiet. Initially, he was shown as a machine like person who would just obey the orders given to him. In actuality, he is a kind person and cares for Morgiana. When the Dungeon is about to collapse, he frees Morgiana from Jamil's chains and tells her to leave and go to her home country.
Goltas was one of Jamil's slaves, originating from the Kouga Clan. He was used by Jamil to kill the people that Jamil didn't like.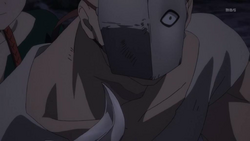 Goltas is taken to the Dungeon Amon by Jamil. After entering the dungeon, his group catches up to Aladdin and Alibaba Saluja. He picks up and carries Aladdin when Jamil orders him to. When Alibaba tries to stop them, Goltas is ordered to kill him, but Alibaba confines him. Goltas is stabbed by Jamil for being useless. He then follows the group further into the dungeon.
Later, when Aladdin wakes up, he is introduced to him by Jamil. When they reach a three way fork, he goes with Jamil down a path where they encounter a monster. After escaping he heads to where Aladdin and Alibaba are and collapses in front of them. When he wakes up, he appears in the treasury room and stops Morgiana from saving Jamil when the dungeon collapses. Goltas finally talks and tells Morgiana that he and Jamil will stay. He also tells her that his final desire is for her to be free and cut her chain. He then dies as he brings Jamil further into the collapsing dungeon.
Goltas appears one night, in Morgiana's dream telling her to go to her homeland to be free. Days later, he appears as a vision telling Morgiana that she has the power to break her chains and free herself.
Abilities
Edit
He was shown to be very strong and powerful, and very trustworthy. He showed terrifying strength in Amons dungeon, being able to defeat some of the Slime monsters that were residing in the dungeon.
Relationships
Edit
Jamil was Goltas' master. Jamil used him to kill people. Goltas killed Jamil when he brought Jamil further into the collapsing Dungeon.
Morgiana is a fellow slave of Jamil. He had cared about Morgiana and wanted her to be free from Jamil and even cut her chains.