Djinn
Talk

9
884pages on
Magi Wiki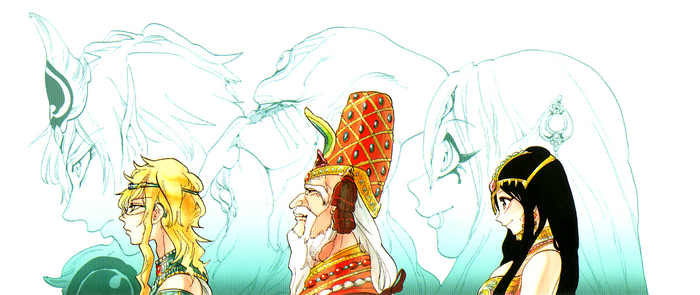 Djinn (ジン, Jin) are artificial lifeforms created from humans and Rukh that retain the memories and personalities of those humans.
Solomon's Djinn
They were all originally human/monster members of King Solomon's Household and later became Djinn to better fight against the Medium. They rule over Dungeons and are able to change the level of their Dungeon's difficulty. They sleep deep inside their Dungeon, until a Dungeon Capturer proves themselves worthy by finding their treasure room. According to Amon, a Djinn should not materialize on Earth, but they will make an exception if summoned by a Magi. The Djinn, in the end, is a pure power that a King uses, and King Solomon created them for that reason.[1] Yamraiha has stated that there is a bad affinity between Djinn and Magicians, that in a certain sense Djinn are Magic users too and if a Magician uses a Djinn, their Magics could interfere with each other. For that reason, a Magician cannot be a King Vessel or a Household Member.[2]
List of Solomon's Djinn
Dark Djinn
Al-Thamen have discovered a way to use the Dark Rukh to create their own Djinn transformation technique. By stabbing oneself with a Dark Metal Vessel, they can summon the Dark Rukh and transform; this, however, can only be done by sacrificing one's life. Dark Djinn are able to heal forever as long as there is a supply of Dark Rukh. Another method is by using a "furnace" that runs on Black Rukh and is powered by untold amounts of white rukh, this allows the sacrifice to create endless amounts of Dark Djinn that when a djinn is destroyed the rukh making it p, is returned to the furnace o create an even stronger djinn.
List of Black Djinn
Trivia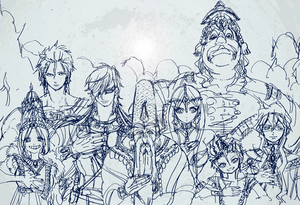 References