Balbadd
Talk

0
764pages on
Magi Wiki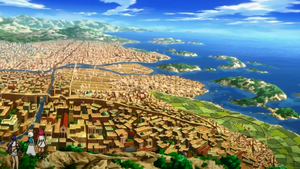 Balbadd (バルバッド, Barubaddo) is the home country of Alibaba Saluja. It was called by Sinbad as a Great Oceanic Nation.
Appearance
Balbadd is part of Northern Oasis Countries and was located near the seas making the Balbadd a great trading nation as it was known to trade with countries such as Sindria and the Western Parthevia. Its Capital is Balbadd City.
History
Before Balbadd turns into a republic, the Saluja Clan had been the ruling family of the Country for many generations.
Balbadd is currently in control of the Kou Empire.
Plot
Balbadd is introduced as the smallest country on the continent, whose independence is attributed solely to its diplomatic relations with other countries. Sinbad, while visiting it, says that since the death of the last king, Rashid Saluja, the country has become disheveled. The current king, Ahbmad, broke off trade with Sindria due to Balbadd currently having domestic problems with the group of thieves called the Fog Troupe, whose members are seen as heroes by poor citizens. What's more, Balbadd is under heavy influence of the Kou Empire. Not only Kou's currency is circulating within Balbadd, but also Ahbmad is engaged with one of their princesses, Kougyoku Ren. This marriage will means signing a Treaty which will make all of citizens slaves.
To stop it, Balbadd's third Prince, Alibaba Saluja, dethrones his brother and changes Balbadd into a republic. He also negotiates with Princess Kougyoku and cancel the treaty with the Kou Empire, with which helps him Sinbad who proposes to go to visit Kou's empire himself. However, some members of the Fog Troupe don't approve change of polity, which eventually leads Balbadd into a state of civil war with a great number of victims.
According to Sinbad, everything that happened in Balbadd might have been planned by the Kou Empire all along. After the civil war ended, Kou's army came and war seemed inevitable, but thanks to Sinbad's influence, they only made Balbadd come under Kou's jurisdiction, still acknowledging Balbadd as a republic. What's more, Balbadd's royalty wasn't given a death sentence but instead got exiled to Sindria.
In Balbadd's territory, the Kou Empire has its western expedition's army's base. Judar arrives there and is greeted by Kouha. Kouha comments that this country is really sultry. Then, Koumei Ren arrives and the three of them go to Kouen Ren, where he states that the day in which the Kou Empire will obtain the whole word is imminent.
Current Arc
Citizens
Royal Family
Fog Troupe
Others
Trivia
Balbadd greatly represents Saida, Lebanon in terms of architecture, trade and fishing.
Their royal swordplay closely resembles real world fencing.