Anise
Talk

0
646pages on
Magi Wiki
Anise

Biographical Information
Kanji
アニス
Rōmaji
Anisu
Also Known As
Anis
Physical Description
Age
33 (deceased)
Gender
Female
Height
156 cm (5'1")
Relationships
Family
Rashid Saluja (lover/deceased)
Alibaba Saluja (son)
Kassim (adopt.son/deceased)
Mariam (adopt.daughter/deceased)
Allies
Enemies
Status
Djinn
Occupation
Harlot (former)
Maid (former)
Affiliation
Balbadd
Media
Manga Debut
Night 38 (flashback)
Night 76 (debut)
Anime Debut
Episode 8 (flashback)
Episode 17 (debut)
Seiyū

Anise (アニス, Anisu) was the mother of Alibaba Saluja. Before she became a harlot, Anise was a maid for Balbadd Palace, which is where she met and conceived Alibaba with Rashid Saluja, Balbadd's former King.
Appearance
Edit
She has black hair and is fairly attractive. She wore a sleeveless dress.
Personality
Edit
Anise was a very kind woman and she loved Alibaba a lot. When she saw Kassim being attacked by his own father, she brought Kassim and his sister Mariam to her home, and treated them like her own children.
She was once the maid in Balbadd's Royal Palace. There she became the lover of Rashid Saluja and born an illegitimate child, Alibaba Saluja. After giving birth to Alibaba, she left the slums and became a harlot. One day, she saved Kassim and Mariam from their father and even adopted them when their father disappeared. She then protected them as if their were her own children. She then died from an illness.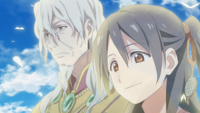 Aladdin used Solomon Wisdom to bright back Anise's rukh along with Balbadd previous kings rukh.
Abilities
Edit
Anise was an average woman.
Relationships
Edit
Anise is the mother of Alibaba, and she loved him very much. She was always positive and happy, encouraging Alibaba whenever he cried that everything would be all right.
Anise was the lover of the previous king. She had bore his child.
Anise had adopted Kassim after his father had disappeared. She even protected him from his father before adopting him. He had a crush on her, and secretly confessed to her three times.[1]
Anise had adopted Mariam after her father had disappeared. She would protect her from her father before adopting her.
References
Edit