Amon
Talk

0
646pages on
Magi Wiki

Amon (アモン, Amon) is Alibaba Saluja's Djinn. He is a fire Djinn. Amon is the Djinn of the Stern and Dignified Spirits of Etiquette. Amon was in the 7th Dungeon, Amon. He "gave birth" to a Familiar, which has a contract with the Household Vessel, Amol Selseira, that is used by Morgiana.
Appearance
Edit
Amon is an bearded old man looking Djinn. He doesn't wear a shirt and is bald. His weapon however is a large black sword that can melt even steel easily.
Personality
Edit
Amon is usually stern and dignified, giving the impression of being a wise man. However, he is also intensely jealous as when he was depressed at Alibaba entering the dungeon Zagan. He believed Alibaba was looking to acquire another Djinn, but Amon reminded Alibaba that he was only capable of handling one.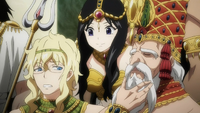 Amon used to live in Alma Toran.
Amon, along with the rest of the Djinn, were created by King Solomon from Rukh. After being raised he spent 10 years and one month in his dungeon until being captured by Alibaba.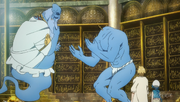 Aladdin touches a vase in the last room of the Dungeon, Amon. When Amon is summoned, he meets up with Ugo and they have a talk. Before the dungeon is about to collapse, Amon makes a way for exit and he transfers himself into Alibaba's knife.
Abilities
Edit
Fire Control
Size Alteration
Amon can willingly change his size.
Amon's Dungeon Capturer is Alibaba Saluja.
The only member of Amon's Household is Morgiana.
Amon's Metal Vessel is a small knife, that is later switched to a small sword, which Alibaba keeps at his side at all times.
"
Stern and Dignified Spirits of Etiquette, In the name of my Magoi, and my will to grant me a greater power, I order you and your members, Come Forth, Amon!!
"

—Alibaba, summoning the powers of Amon.
Alibaba is shown to have mastered the ability to Djinn Equip. In this form, he has flame-like protrusions from his arms and legs and a third eye on his forehead. While in this mode, Alibaba becomes very powerful, able to cut down three Black Djinn in one slash.
Djinn Weapon Equip
Edit
Alibaba is able to do a variation of Djinn Equip. Alibaba burns his arms with Amon's flames. Then, he starts to burn his entire body. He keeps using more and more flames, until he becomes the flames himself. Alibaba's knife becomes a large black sword. However, Alibaba's fencing teacher Sharrkan notes that the sword's form is ill-suited to Alibaba's sword style and its size wastes excessive amounts of energy. During the excursion into the dungeon Zagan, Alibaba learns to compress Amon's power, merely turning his sword black instead of changing its size.
Relationships
Edit
His name "Amon" is probably taken from the book The Lesser Key of Solomon. In the first section of this book, entitled Ars Goetia, several demons are described, Amon being the seventh. As a matter of fact, the dungeon where Amon resided was the 7th as well.