Alma Torran
Talk

0
764pages on
Magi Wiki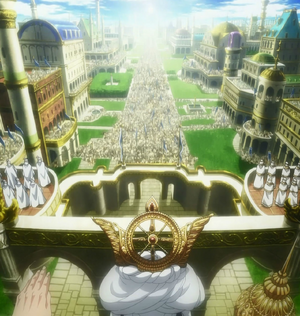 Alma Torran (理想郷 (アルマ・トラン), Aruma.Toran) or Utopia is the world where Aladdin, Solomon and Gyokuen Ren are from.
History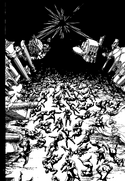 Alma Torran was once a world ruled by a powerful magician, Solomon. He was a well loved and respected king, and three Magis supported him. At some point, after betrayal of one of his Magis, a war exploded where the Magicians and Goi fought each other. They were attacked by the Medium, its Black Djinn and Al-Thamen. In order to fight against them, Solomon's 72 Household Members became Djinn and attacked them one after another. In the end, a lot of the people of Alma Torran were left dead. Solomon created a new world, the actual world where the humans live, and the survivors of Alma Torran were settled there.
Residents
King
People
Trivia
Alma Torran, the Torran Language, and the Torran Nation all have one thing in common, the word Torran.
"Alma" is either a corruption of the Arabic word 3ālam عالَم, meaning "World", or the Arabic word أرُومة Arūma(t), meaning "Source/Origin/Root/Beginning/etc". Torran derives from the Arabic word طرّا Ṭurran, which means "altogether, in entirety, without exception". Thus, this place name roughly means either "(The) World in its entirety" or "(The) Source/Origin in its entirety".